Category Archives:
Oroma Elewa
Nigerian fashion designer Maki Oh's designs gain a joyous Cultural Presence when fashionistas Solange Knowles, Leelee Sobieski and Oroma Elewa were photographed on the red carpet wearing her designs.
Solange wore Maki Oh twice recently for her two DJ gigs. Solange attended the Ferragamo store re-opening wearing a Maki Oh Autumn/Winter 2012 silk chiffon adire shirt which she paired with her signature curls, a satin purple Ferragamo jacket and red disco cigarette pants.
For her DJ gig at the Splendid store opening, Solange looked regal in a black Maki Oh Autumn Winter 2012 silk velvet and chantilly lace skirt.
Pop'Africana editor Oroma Elewa donned a Maki Oh design for a private dinner hosted by Dom Pérignon.
Actress Leelee Sobieski worked it in Maki Oh Spring/Summer 2012 silk charmeuse adire cutout shirt and skirt at NYC premiere of NYC 22.
Speaking of LeeLee, I love this skirt she wore at the Soho House And Cecconi's At Frieze New York In Partnership With Bombay Sapphire Gin event.
Learn more about Maki Oh via her social media platforms:
website
//facebook//pintererst//
twitter
image credits- getty, neks2u
Introducing a new segment to CulturalToast.com, we proudly present Cultural Loop. This feature provides our readers with the latest news within the fashion world. Wonderland UK Editor Julia Sarr-Jamois is the celebrity brand face for Tibi Spring 2012 AD Campaign. Julia was styled by Tibi's Amy Smilovic and swedish blogger Elin King. Her confidence simply radiates in these photographs and she also gives us all hair envy with her natural Afro. Julia shared with Vogue about what she calls her statement hair.
 "I've had my hair like this since I was about fourteen," Sarr-Jamois says. "When I was at school, I had it in plaits, which were quite tedious, and I thought, 'I'm going to take it out for a bit.' I remember feeling like it looked really big at first but then I ended up keeping it. I wash it with Bumble and Bumble Tonic shampoo, which smells so good. And a more intense Bumble and Bumble conditioner called Creme de Coco Masque. Then I let it air-dry and maybe play around with it for a bit with my hands. That's it. People are always asking about it, though. And everyone wants to touch it."
Last night in Hollywood, actress Gabrielle Union stepped out in a strapless silk chiffon black cocktail dress by Ethiopian designer Amsale at the premiere of Think Like A Man.  Her red carpet style has always been effortless. Gabrielle said to Style Watch her trick to wearing sparkle is play down the rest of your outfit. "My rule for sparkle is that there's no such thing as too sparkly of a dress! It makes you feel like a princess. Just play down the rest." She definitely stuck to her fashion trick!
New York Fashion Week just kicked off with a huge bang. Max Azria of BCBG MAXAZRIA presented his color-block caftan Fall 2012 collection.
African models rule on and off the runway for Lincoln Center's biggest fashion extravaganza. Ethiopian model Liya Kebede stepped out in a black and white tuxedo-inspired Lanvin outfit at amFAR gala. Somali-Ethiopian model Fatima Siad walked for Chadwick Bell Fall 2012 runway show. Zimbabwean model Nyasha Matonhodze was seen at the Richard Chai Love show.
Not to be outdone but African stylists took in the shows in style and a huge entourage. Nigerian blogger and stylist Joy Adaeze (spotted by Daily Candy) wore a Jewel By Lisa. This NYFW candid of Nigerian magazine editor-in-chief for Pop'Africana Oroma Elewa with Joan Smalls was spotted by Teen Vogue. Blogger Rosemary of FashionJunkii.com pose with her entourage of industry friends – model Tolula Adeyemi, stylist Marian Kihogo and Tanzanian model Miriam Odemba.
African fashion and art collaborated with stunning results. Head wraps -a trend that jumpstarted last season by stylist June Ambrose – made it into this African-inspired L'Officiel Mode photo shoot. Nigerian, London-based fashion designer Duro Olowu has pop-up art show that he curated which is on display at Salon's 94 Freeman Alley Gallery from now to early March. Duro Olowu's exhibit features vintage and contemporary assortment of photography, textiles, art, furniture, music, books, and objects. You can check out from February 8 to March 10. Duro's wife Thelma Golden, Studio Museum of Harlem Director and Chief Curator, must be proud of him! Will we see Thelma launching a clothing line in the future?
image credits – fashionjunkii.com, vogue.com, style.com, tibi.com, and getty.
Cultural Loop is a must-read news rundown within the fashion industry!
CulturalToast.com spotted Oroma Elewa on the set of a Nollywood film set at Betty's Lounge early Winter 2011. The Nollywood film Timeless Passion stars Desmond Elliott, Ebbe Bassey, Uche Jombo, Chisom Oz-Lee, and Ramsey Noah. Stay tuned to CulturalToast.com for more!
Oroma Elewa is the successful, innovative founder of Pop' Africana Magazine. Her creative eye for fashion and photography of the African woman caught the eyes of US Vogue, Vogue Italia, and various publications for her exquiste style. She has appeared in US Vogue a record-breaking twice in just one year! Street Style photo blogs can't get enough of her. She favors Nigerian fashion line, Maki Oh. In just one year Oroma Elewa was featured two times in US Vogue. Simply put Oroma's unstoppable!
"My work is inspired by a vision I have for Africa and Africans. A vision of an Africa that shelters and respects individualism and for Africans, that the world's opinion of us is redirected" Oroma Elewa to Vogue Italia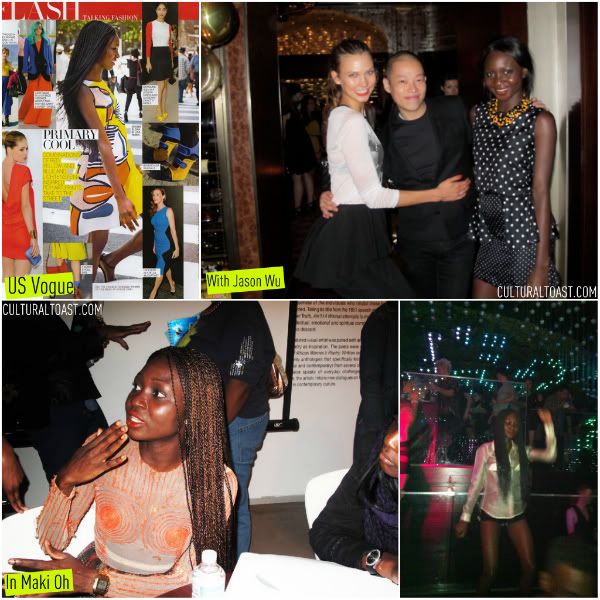 Connect with Oroma Elewa Online: Pop' Africana// Website// Tumblr//Facebook//Twitter
images taken exclusively by CulturalToast.com + additional photos lifted from Pop' Africana Tumblr